Jawa and Shaza Manla of Trio Qasyon are two very talented musicians who play beautiful interpretations of Syrian, Egyptian, Iraqi, Turkish and Greek songs. Since they came to The Netherlands in September 2015 they have toured with the Nederlands Blazers Ensemble (Dutch Brass Ensemble) and played the Concertgebouw on New Year's Eve. Listen to their session for Dutch TV Vrije Geluiden here.
Interview by Arnold de Boer
Jawa (19) and Shaza (12) Manla are two girls from Syria. They have fled from their country with their parents, who are both journalists. They first went to Egypt but it wasn't possible for them to get a legal status in Egypt, so when they could not extend their stay the mother of Jawa and Shaza decided she would try to get to Europe and apply for a refugee status for the family. She made it to Italy on a small boat. After a long, long journey she finally ended up in The Netherlands where, after one year, she received travel documents for her husband and two daughters. They now all live in a flat in Haarlem and that's where Arnold meets Jawa (and her mother) to discuss her roots, Oum Khaltoum, and studying music.

Arnold de Boer has been kicking around in the Dutch underground for a decade or two. He is probably best known for his frontmanship of punkgroup The Ex, Zea and the related Makkum Records, but De Boer has never hid his fascination for oriental and African music either. That's why we asked him to interview Trio Qasyon – one of our most precious acts on the bill at Incubate. Arnold visited Jawa in Haarlem on a tranquil and sunny Friday night. Here's what he wrote down.


"I am asked to write this interview in English, are you OK with that?" I ask Jawa. "Well, I did not speak any English for over a year. I have been learning and talking Dutch very intensively and my Dutch is better than my English right now. I even started thinking in Dutch, so I prefer to do the talk in my newly apprehended language", Jawa replies in Dutch. Accordingly, all what follows was translated and transcripted.

Q: Where is Ensemble Qasyon from and what is the meaning of the name?
A: Originally, I am from Aleppo. My family is from Aleppo, but we lived in Damascus, that is where I grew up and where I studied. The name of our ensemble, "Qasyon", is strongly connected to Damascus. It's the name of the mountain that overlooks the entire city. We saw her at every moment of the day, basically. Going to school and back home, Qasyon was always with me.
We started our ensemble in Cairo, where we used to live for three years, and when thinking about a name my father put forward "Qasyon" since it has a very strong connection to our home and roots. With this name we will never forget our country, it will stay in our hearts.

Q: What role does your father play in your musical life?
A: My father has been a big inspiration for me ever since I was a little child. He would play the oud at home for me, merely children's songs, and sing to it. So I know this instrument from when I was a little baby.
When I was in music school I saw the qanun (which we know as a cimbalom in Western Europe, ed.) and I knew my little sister was looking around for an instrument to play. I encouraged her to pick the qanun since it is such a beautiful instrument, and luckily, she followed my wishful advice. Shaza plays it really well now. She had two teachers in Syria but funny enough, she was still too young then - the instrument was simply too big for her to master. In Egypt we found a qanun player and teacher, one of the best, and she learned a lot from him. We play music together ever since.
"Shaza was still too young then – the qanun was simply too big for her to master"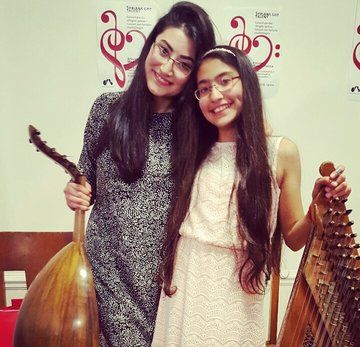 Q: Was your father your best teacher? And who taught you to sing?
A: My father was my first teacher on the oud at least, but after a while I became better than him. Still he teaches me a lot because he knows a lot about music, I can always learn something new from him.
For singing I have had no teacher, I'm more or less an autodidact. I was in the opera class in Damascus for a short while but I stopped since it does not connect with my instrument. Singing was not the first thing I wanted, I wanted to play music, but eventually the singing came from my self.

It's not easy to play oud and sing at the same time and at first I could not get the playing and the singing on the same road. I tend to focus more on melody than on words, words come from a different part of my brain, but at a certain point it clicked, with the right concentration it's possible.

"I'm not only interested in Syrian or Arab music, we strive to learn from all styles and regions and want to play for all sorts of people."

Q: Who inspires you? You are playing one song from Oum Khaltoum, when did you hear her music for the first time?
A: I do have heroes; musicians and composers I look up to. Most of them live or lived in Egypt. Some of the greatest Syrian oud players and composers moved to Egypt since that country has been the cultural center of the Arabic world for over decades.
Cairo is full of theatre, film and music. My father studied there when he was young and he came back to Syria with a large collection of cassettes and CDs. His collection of music of Oum Khaltoum is huge. I do not remember when I heard her music for the first time since it has always been around in my life. Her singing is amazing.
I wish I lived fifty years ago so I could have seen her live. When you see her performance on film you see how the audience is completely captured by her presence. Her concerts could take two or three hours and she didn't play short pop songs, rather pieces of half an hour or one hour. Within the piece there is the repetition of a line or theme but she makes variations on them. She improvises on the melodies given by the composers. Oum Khaltoum is a big heroine and inspiration to me. I also improvise in the pieces we play. I kind of feel when it has to happen, which I guess is inherent to improvising.

I have to tell you about another great singer, her name is Fairuz. Her music and her voice are deeply woven through the soul of Syria. It is a tradition, a ritual and a habit for the people in Syria to play her music early in the morning while drinking a first cup of coffee. She is from Beirut, but music of course travels and is endless. I am not only interested in music from Syria or Arabic music.
Music is like the sea, it never ends, we can learn from all styles and regions and we want to play for all people.


Q: You have had quite a few great teachers, you have traveled and played in various countries and now you are going back to school? Why?
A: This week I started at the Rotterdam Conservatory. They have a Turkish music department and I want to study Turkish music. I stayed in Turkey for a while when I didn't have a visa for Egypt. We were waiting for approval to reunite with our mother. It was a hard time, but I had a Turkish teacher and learned about Turkish music.
It's very different from Arabic music. The "koma's" are different; the way they divide the octave. I want to learn about these differences, I want to find out exactly where the styles part and where they divide so I can find my way with both and at one time combine them.

I want to learn everything, I want to learn Jazz, flamenco and more and I am very happy to have the opportunity in the Netherlands to do this. We have had a lot of help from many people here. I want to deeply thank all those people.
Trio Qasyon will play Incubate on Saturday September 10 at Paradox. Tickets are still available.